Robusta: Friend or Foe?
Robusta Quality: A Paradox
Call me a coffee heretic, but I happen to think high-quality Robusta coffee beans add an important taste dimension to espresso. Virtually every Italian roaster uses some Robusta beans in their espresso blend. In North America, it's conspicuous by its absence, and I think the North American espresso drinker is generally the poorer for it. Let me explain.
Almost no one outside of Italy understands (or wants to understand) how to use Robusta coffee as a component in their espresso blends.
How is it that the North American specialty coffee industry has mostly turned its back on nearly a hundred years of Italian espresso wisdom?
Part of the answer lies in the different methods of preparing coffee between North America and Italy; Pourover, drip, and French press methods (non-pressurized) are completely different from brewing espresso (pressurized).  They are as different as using a barbecue and a pressure cooker for cooking dinner. In North America there is different history that also factors in.
Before specialty coffee, there was supermarket coffee. Sold in cans and brick packs, this market was controlled by large industrial coffee roasters (Maxwell House, Folgers, Nabob, etc); coffee that was sold on low price and low price only. Low quality Robusta beans cost less than the equivalent lower quality Arabica coffee beans, and so they formed a large part of the blend (a few roasters even managed to add chicory). During this time (the 50's and 60's), the percolator was the popular brewing method and cream and sugar were routinely added to make the coffee more palatable.
In the 70's, the specialty coffee industry was born. Starbucks, Peet's and Stewart Brothers coffee (now Seattle's Best Coffee) in the US, and Timothy's Coffees of the World and Second Cup in Canada and others, all started up. These specialty roasters and retailers were the antithesis of the price driven, mass market supermarket coffee – they featured single origin coffees from (at the time) exotic locations with exotic names –Mocha South Yemen, Ethiopian Harrar and Guatemala Huehuetenango to name only a few. All these coffees were 100 per cent Arabica and tasted great in comparison to the supermarket offerings (especially in the then new drip coffee makers) and quickly gained a loyal following.  Of course, it didn't hurt sales that they were often advertised as 100-per-cent Arabica, no Robusta!
In the 80's (1987 to be exact, in Chicago and Vancouver) Starbucks started to expand outside Seattle. They offered something new and exciting – espresso drinks - and the mainstream North American espresso market was born.  Prior to this, espresso machines were mainly confined to the Italian district and farmers' markets.
What was not fully understood by these early coffee roasters and coffee entrepreneurs (including Starbucks), was that espresso had completely different dynamics than the traditional pourover coffee methods which required a different blending paradigm. The Italians, with a long head start, had already concluded that Robusta improved the espresso shot.
Robusta is a species of coffee plant (Coffea canephora) quite distinct from the more widely cultivated Arabica species (Coffea arabica). It makes up from 20 per cent to 30 per cent of the overall coffee market worldwide, with India, Sumatra and Uganda supplying some of the better wet-processed varieties.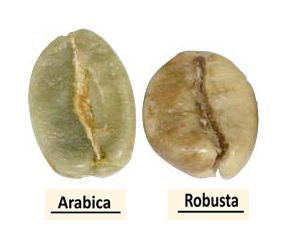 Like any food product, Robusta can range from very high-quality (sometimes scoring higher than similar quality Arabicas) to a wretched product with tasting descriptions like bitter, acrid and tarry. One ongoing problem, which needs to be resolved, is that 10 times the number of defects (substandard beans) are allowed in Robusta coffee lots, compared with Arabica. This makes it harder to select high quality Robusta with low defect counts.
Of the 700 or so coffee roasters in Italy, you can be sure not all are using high quality Robusta. Ten per cent of green bean imports to Italy are from India, which has some very respectable Robusta. Discouragingly though, another 10 per cent is from Vietnam – known for particularly low quality Robusta. If anything but a very high quality Robusta bean is used, it will drag down the espresso with bitterness and unpleasant flavours, another reason for its so called "bad reputation" by roasters unfamiliar with Robusta.
High quality Robusta, on the other hand, has some important redeeming qualities as an ingredient in espresso coffee. It produces quite a bit more crema, the sensory layer on top, which is crucial to a good espresso.

The crema is sturdier and lasts longer, which helps hold the flavour in, and allows the customer to make it to his table with the layer of crema intact.
Having a long lasting crema for the patron to enjoy has another major benefit: crema coats the tongue (the more the better) and in doing so, it seems to insulate the taste buds from the inherent bitterness that all espressos have to a degree. This brings a more pleasing taste.
Since Robusta is naturally low in acidity, it helps balance out the acidity (brightness) of the Arabica beans – which is accentuated in the espresso brewing process. What is a benefit in drip (brightness/acidity) is, counterintuitively, a detriment in espresso.
High quality Robusta also adds a complexity of taste that cannot be duplicated by a straight Arabica blend. Caramel, chocolate and toast notes are more often described in espresso made with some Robusta in the blend.
Because of the past association of Robusta and cheap supermarket coffee, "100 per cent Arabica" was an advertising slogan that worked well for the specialty coffee industry. Robusta was an easy target (and a legitimate one), for the drip coffee market.  If one scratched below the surface though, a few highly regarded artisanal roasters (coincidentally, almost all with Italian roots), were adding quality Robustas to their espresso blends.
A few of those pioneers continue to excel and lead in their market – in Seattle, David Schomer of Vivace Espresso,  Mauro Cipollo (since retired) of Café d'Arte and  Dr. Joseph John, of Josuma coffee, based in California. When talking to industry peers, they will openly talk about the benefits of Robusta in espresso, but to the end users— the customers— the word Robusta is never heard. In fact, while designing a new label for our own coffee, I was discouraged by a few industry friends from putting the word "Robusta" on the label! We put it on.
Kenneth Davids, a 40-year coffee veteran, author of three coffee books, and co-founder of The Coffee Review,  is a proponent of 10 to 20 per cent quality Robusta in espresso blends. He says, when given a choice of four espresso blends, three with only Arabica and one with a Robusta blend, customers invariably pick the Robusta blend.
Today, there are Robusta beans grown in India and Sumatra that are handled and processed better than a lot of washed Arabica coffees. Lest anyone think Robusta coffee is inferior to Arabica, Indian Sethuraman Estate is a three-time winner of "Best Robusta" in the Coffee Board of India's Flavour of India competition and it received the highest-ever rating for a Robusta coffee of 94 points from the same Kenneth Davids (most Arabica's score in the high 80s).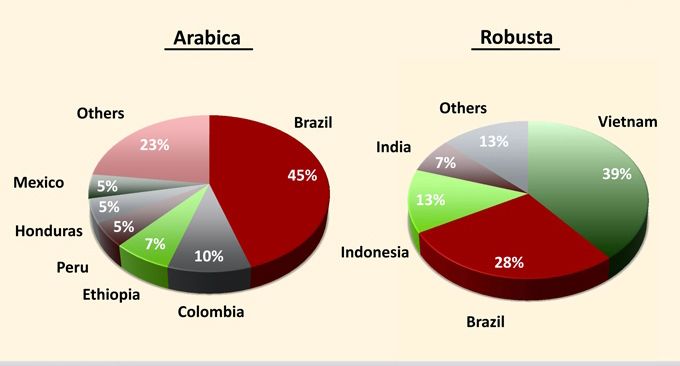 Davids described the flavour as having a "Deep aroma: sweet nut, hints of orange, toast and vanilla. Smooth, buttery mouth-feel and pungent flavors of cedar, more orange and caramel, toasted grains and a hint of flowers."
Dr. Joseph John, another industry veteran, writes: "Perhaps the most significant effect of premium Robusta is its ability to enhance the richness and longevity of crema without detracting from the neutral character that is so critical for a superior espresso. It also adds to the unique flavor profile—typical of European espresso— that I believe cannot be obtained with Arabica alone…. crema is the single most important indicator of well-made espresso, and it is essential for capturing the intense flavors of ground coffee."
Robusta: Valid but not Mandatory
Tom Owen of Sweet Maria's (a leading online supplier of specialty coffee) says this about Robusta: "There is a core use for Robusta coffees that are picked, sorted, processed and prepared with as much care as top grade Arabicas; this valid use is in the 5 to 20 per cent range in espresso blends. Robustas add body, crema, and a distinct flavor to espresso. If you are familiar with traditional Italian espresso you will recognize this taste. It also aids the espresso in distinguishing itself in milk drinks." In fairness, he is not insistent on Robusta use, he is also passionate about the unique taste profiles of his all-Arabica espresso blends.
One of the fathers of modern espresso in Italy, Dr. Ernesto Illy, also believes in only using 100 per cent Arabica in his espresso blends. But Illy is probably one of the finest blending and roasting companies in the world. They concentrate exclusively on espresso, have been doing so for over 75 years, buy exclusively from the source (the farm), and train those same coffee farmers on improving their coffee crops.  It is possible to make a good 100 per cent Arabica espresso blend – it just requires great sourcing skills and experience to do it properly; a skill that can take generations to fully develop.
Espresso brewing places high demands on the beans chosen. Espresso will accentuate both the positives and negatives of a bean. So roasters in North America may not have the confidence to use it, or just don't have access to the highest quality beans at source. Choosing and blending the right amount of Robusta for espresso might be the toughest job in the coffee food chain.
Using a judicious amount of Robusta enhances espresso—it adds thick, long lasting crema, provides a smooth, more rounded taste usually with caramel and chocolate notes.  It lowers acidity and leaves a more pleasing aftertaste.
You would think, with those epicurean qualities, we in North America would be enjoying it like the Italians– with great enthusiasm, frequently, and with not  more than a tablespoon of milk added, at most, an espresso macchiato (6 oz. cappuccinos are acceptable as part of the breakfast routine!). The Italians drink something like 3 million espressos per hour! Does anyone think for a moment, that they would collectively punish themselves with a drink they didn't find enjoyable? The reality in North America is not so encouraging.
After 25 years of exposure, almost no one consumes straight espresso in commercial establishments.

This, in spite of the fact that baristas are often elevated to the same status as rock stars. We have local, regional and national Barista competitions, culminating in the World Barista Championship. We have numerous trade shows, dedicated magazines and multiple levels of barista training. The whole espresso industry has built an aura of "specialty gourmet" surrounding it. Some third wave coffee bars seem to have the same self-importance as upscale wine bars.
And yet, in North America, less than 5 per cent of total espresso machine drinks are served as espresso! Why? Simple, the vast majority of customers taste an espresso once and aren't impressed. It becomes their first and last. Some of the over the top descriptions of espresso don't live up to the experience in the little cup either. The vast majority of espresso is only palatable when diluted with plenty of milk (or water as in an Americano).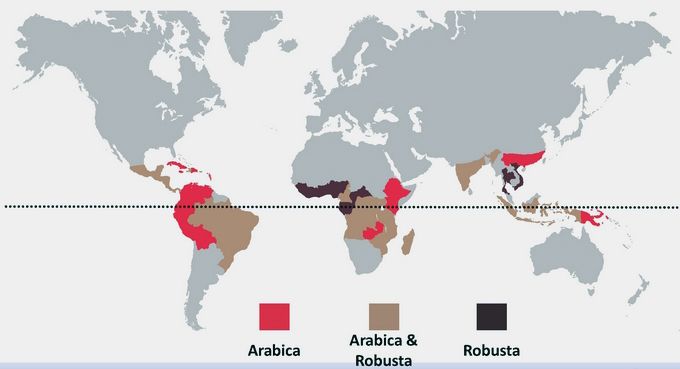 A post on the Homebarista website summed it up nicely (if not bluntly):
"In Italy 90 per cent of the espresso is drinkable and 10 per cent is crap; outside Italy 90 per cent of the espresso is crap; 9 per cent is drinkable and 1 per cent is brilliant."
In other words, in North America, the unwary customer has about a 10 per cent chance of getting a passable, drinkable  espresso.
Imagine if a new North American distillery operated the same way.  They have discovered (they think) a better method than the Scots to make great single malt whiskey. Sales seem to be good.  They conduct a marketing survey and find less than 5 per cent of their customers actually drink it neat (the way they intended). The other 95 per cent only find it palatable when mixed with generous amounts of ginger ale, soda or coca cola!
It's fine to interpret a product, but if it's not an improvement in the customer's acceptance of it, is that progress? If we can recognize that the Italians have refined a great recipe and have the customers to back it up, then let's honour that tradition.
If you want to provide your own twist on a standard, as an artist and an innovator, I can applaud that. But let the customer know that it's not an Italian espresso you're about to serve – it's an American-style espresso. If I, as a customer, know this in advance, I can make an informed decision on whether I want it.
The CoffeeResearch website says this about espresso: "The best espresso should be extraordinarily sweet, have a potent aroma, and flavor similar to freshly ground coffee. The crema should be dark reddish-brown and smooth, yet thick. A perfect espresso should be enjoyable straight with no additives, yet bold enough to not disappear in milk. A pleasant and aromatic aftertaste should linger on the palate for several minutes after consumption."
So to the question: Robusta: Friend or Foe? I say friend, in espresso. And if the espresso I just finished doesn't bring a satisfying smile to my face 90 per cent of the time, I also say, maybe it's time to re-think the recipe!
References
http://www.sweetmarias.com/coffee.other.robusta.php

http://kaapiroyalecoffee.com/tag/ken-davids/ (2009)


http://www.coffeeresearch.org/espresso/potential.htm

USDA GAIN report No. IT047, 2010

About the author, Reg James of Espressotec
I have 25 years of experience in espresso; everything from roasting to retail. On top of having my Level 3 barista license, I've previously operated three successful espresso coffee shops in Vancouver, Richmond, and Banff. Currently, I am the owner and operator of Espressotec Sales & Service, selling and servicing both home and commercial machines for over 15 years.